2017 Double Canyon Horse Heaven Hills Cabernet Sauvignon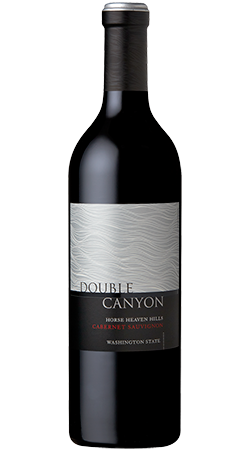 Located between the Columbia River and the Yakima Valley, Horse Heaven Hills is characterized by a dry desert landscape where strong winds blow continuously across the vineyards. Proximity to the river moderates temperatures and provides a consistent source of water to irrigate the vines in one of Washington's warmest appellations. The area also experiences diurnal shifts between extended sunny, warm days and cool evenings. As a result, Cabernet Sauvignon from this region shows ripeness and depth while maintaining optimal natural acidity, making it some of the most sought-after fruit in Washington State.
Characteristic of the appellation and the 2017 vintage, this Cabernet Sauvignon offers aromas of rich blackberry, pie crust and baking vanilla. The wine enters the palate with a silky raspberry profile accented by light notes of confectioners' sugar. Hints of peach and raspberry take you into the finish, lingering with the juicy acidity that is characteristic of Horse Heaven Hills.
Wine Specs
Varietal
Cabernet Sauvignon
Appellation
Horse Heaven Hills