2021 Pine Ridge Vineyards Black Diamond Cabernet Sauvignon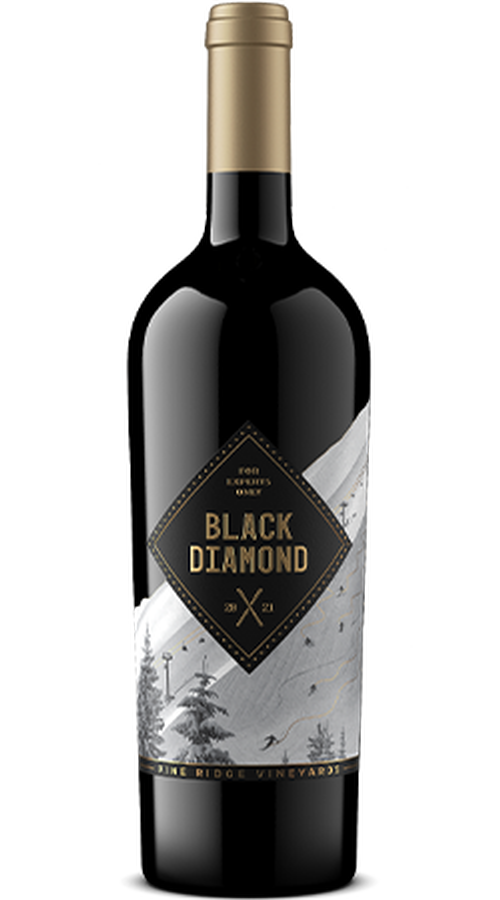 Named as a "perfect après-ski indulgence" in SKI Magazine's annual gear guide roundup.
SKI Magazine - Gear We Used to Test the Skis of the Year

A fitting homage to our founder, Gary Andrus, Black Diamond is a wine with an adventurous, far-reaching spirit. The man who started Pine Ridge Vineyards was as intrepid as they come, an Olympic downhill skier with an unwavering love of both the outdoors and well-made wine.
Much like a thrilling ski run down from the top of a mountain, this wine is a feast for the senses. A floral fragrance opens on the nose followed by exhilarating flavors of dark chocolate and acai compote bolstered by hints of cassis and lavender candy. The soft, round entry on the palate is surrounded by lush pomegranate juice and cherry cordial flavors. As the wine carves its way towards the finish, its lifted by mouth-watering acidity and slightly drying tannins balanced by cocoa powder and cassis flavors that linger.
This wine is best enjoyed by a warm fire after a long day on the slopes. Try pairing with a mouth-watering fondue, or a meal packed with hearty fixings that would leave one feeling well-prepared for another day of epic powder.
Wine Specs
Varietal
Cabernet Sauvignon
Appellation
Red Mountain, WA