Pine Ridge Vineyards Bordeaux 6-Bottle Collection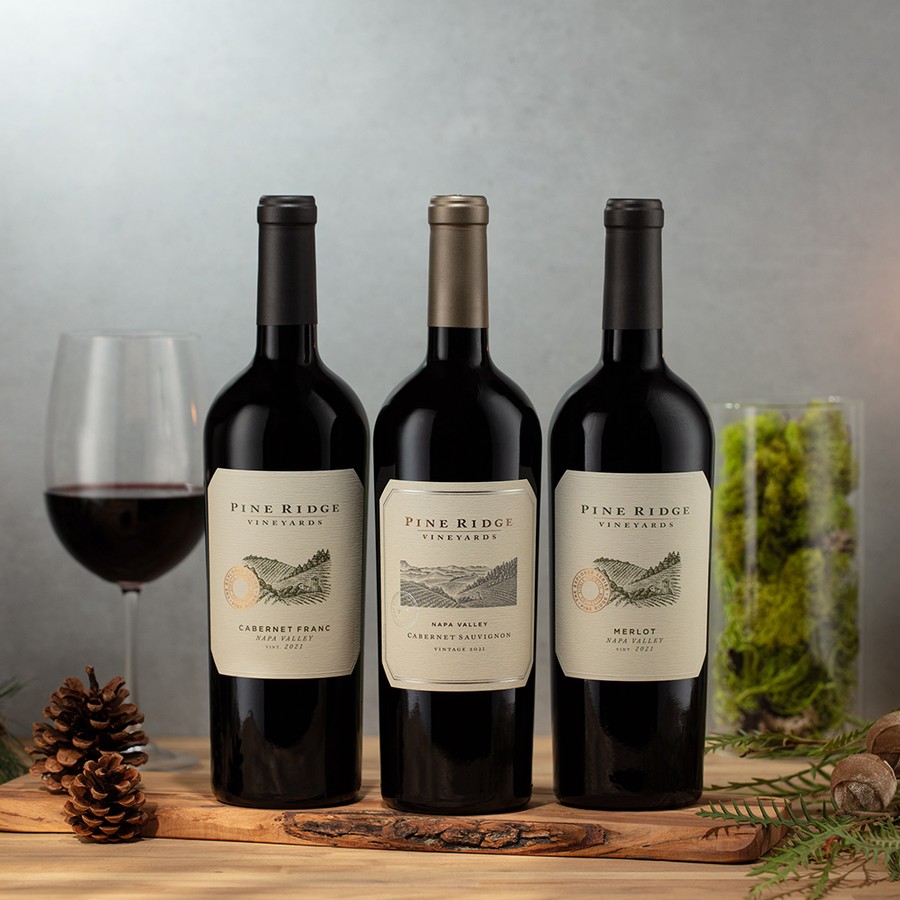 Ground Shipping Included*
This 6-bottle collection includes two bottles each of the following wines - perfect for hosting, gifting and gatherings!
2021 Cabernet Franc
Floral potpourri immediately identifies this as a prototypical Cabernet Franc, with nuanced notes of fresh blueberries and Kalamata olives adding to the layering of the aromatics. On the palate, a firm tannin structure provides ballast around which vanilla and espresso notes are interwoven with cranberry and Rainier cherry notes. This tight midpalate then transitions to a mouth-watering raspberry milk truffle finish.

2021 Merlot
Merlot is the velvety, fruit-forward blender typically used to tame Cabernet Sauvignon's tannins. On its own, it presents an essence of Amarena cherry with vanilla ice cream, hot The bright, sweet entry leads to a smooth midpalate with accents of red currant and smoky oak. The finish remains indulgent, buttressed with tannins and notes of dark chocolate syrup on marionberries.

2021 Napa Valley Cabernet Sauvignon
While admiring the cranberry red hue, forward fruit aromatics of black cherry and cassis begin to make your mouth water before the first sip! On the palate, juicy notes of blueberry compote and cherry cordial meld seamlessly with hints of cinnamon and cream soda. The wine methodically transitions from the bright, round entry through the viscous midpalate and onto a broad-shouldered finish. This is where hints of clove, graham cracker and toasted marshmallow are juxtaposed with those of dark roast coffee and Bing cherry.
*Ground shipping included to most states.